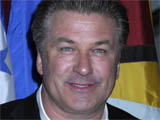 Alec Baldwin has praised Gossip Girl star Blake Lively for acting as a positive role model for young girls and slammed Lindsay Lohan for wasting this opportunity.

Speaking at a gala commemorating 30 years of PETA, the 30 Rock actor confessed that he would like to see Lively pose for one of the charity's famous naked campaigns, but for strictly legitimate reasons.

"These younger girls, whether they get naked or not, are the biggest stars, who are the role models," he told E! News. "I'm a big fan of [Blake Lively]. I think she's a really really gorgeous woman, very stylish. These are the ones who have all the influence."

Subtly referring to the troubled Mean Girls star, Baldwin added: "There are certain people who, I won't name, but they are in and out of rehab, they're getting arrested for drug use and they're twittering about their drug problem - it's a shame.

"I think those people had a real opportunity to fill a certain role in society and they didn't necessarily step up, but those that are I think it's a great thing if they get involved with anti-fur or anti-animal testing."

Baldwin also used the event to denounce the mixed messages brought up by the meat dress that Lady GaGa recently wore to the MTV Video Music Awards.

"I didn't understand it," he admitted. "What was the purpose? Was she pro-meat or against meat? I didn't understand it."